Beaded Bowl in Brown Oak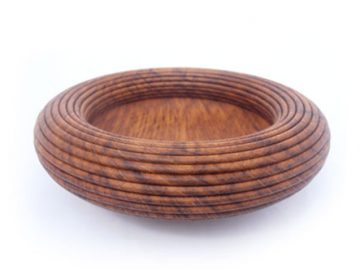 neurontinonlinonoprescriptions At the AWGB International Seminar at Loughborough University in August 2011 I was delighted to have this bowl selected as one of the top 50 exhibits in the instant gallery. It will now go on tour for the next 12 month to all the top woodworking shows in the country.
http://crossfitraze.com/members/schedule/ I love to know where the wood I use comes from and this brown oak is no exception. Don, a retired farming friend of mine, telephoned me in early spring to say that he had found a large old oak tree stump, the main tree having come down at least 60 years ago. It was on the side of a disused cart track in some beautiful Somerset countryside, and we spent a very pleasant morning extracting the wood and getting it into the back of his Land rover.
We knew it was going to be good. It was a rich brown with dark black streaks. Is this what they call 'Tiger Oak'? Because the tree had been dead so long it dried well after being part turned and was ready for finishing in 4-6 months.
This bowl was mainly turned with a 3/8th swept back gouge and then beaded with a beading tool home made from an old parting tool. In fact I had to make two beading tools- one with a special shape so I could get under the rim on the inside.
I was very pleased with the result but even more delighted when other people liked it as well. It was sold before it got to the exhibition but the purchaser now has to wait 12 months before he can take possession!