Plaque in Old Burr Elm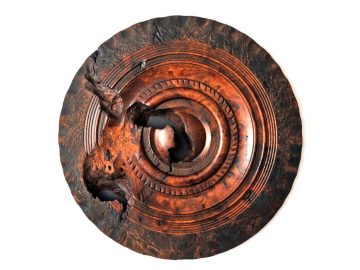 http://tomhagandesign.com/admin.php I've always admired Nick Agar's Wall Sculptures so when a fantastic piece of old burr elm with natural fissures in all the wrong places for a large platter came my way I thought I would give it a go.
buy accutane in australia With a hole in the centre where I would normally screw my face plate I had to glue a large diameter piece of wood to the back for a strong chucking point. Once on my VB36 lathe I could let inspiration take hold!
After truing up the circumference I used an Arbortech cutter on my angle grinder to scallop the outside- no precise measurements here-just a rough guess. Then I used a texturing tool to break up the surface followed by a good scorch with a blow torch. A wire brush cleaned away the charred wood and mellowed the surface and sharp edges.
What next? – a few grooves, some fine lines between two beads, a soft curve towards the centre then some more angled cuts with the Proxon cutter, a large bead, some texturing and  a dome to the centre cut with a bowl gouge. This was all done as the spirit moved me. Don't get bogged down – just go for it! Enjoy the moment of creation.
Very careful sanding with abrasives cleaned and finished the smooth surfaces and then I brought out the rich colour of the elm with herb & resin oil and a wax polish to give a good finish.
The chucking point was removed and an ebonised plywood disc fixed to the back to cover the voids.
I'm thrilled with the result. This wall sculpture will be displayed and on sale during Somerset Arts Weeks open studio event at my home and workshop between 20th September and 5th October. All welcome.